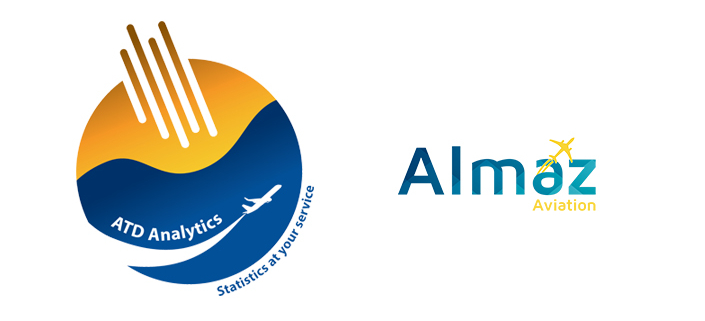 France Aviation Civile Services and ALMAZ Aviation launch ATD Analytics
Press Release – September 28, 2021
ATD Analytics, a web-based global air transport analytics platform, allows to instantly analyze global air traffic over the past decade.
France Aviation Civile Services (FRACS), a consulting and expertise office created by the DGAC and ENAC, in order to promote the know-how of French Civil Aviation and ALMAZ Aviation, a start-up specializing in the development of analytical platforms in the aviation industry, have combined their skills to develop together "ATD Analytics" platform.
Powered by FRACS Air Transport Data (ATD), the service offered by the web-based platform will make it possible to analyze traffic, line by line, by country, by airports according to a multitude of combinations.
In the current situation that is hitting the aviation sector hard, and to meet the many environmental, economic and societal challenges, many players shall review their strategy. ATD Analytics will be a key asset and will save valuable time in the diagnostic or context understanding phases and will provide sometimes unsuspected insights.
This innovative platform, based on ATD data collected since the 1970s by France Aviation Civile Services from more than 3,000 airports around the world, is aimed at the transport sector, tourism, major international organizations and more generally all economic actors.
FRACS and ALMAZ therefore propose an indispensable and useful tool for current and future circumstances. Many additional features will be released in the coming months to further enrich the value proposition.
Already available in English, ATD analytics will soon be available in French and in Spanish.
« Whoever desires to anticipate the future and understand the present shall consult the past» (Machiavel).
==================
For a taste of ATD Analytics: https://atd-analytics.com
==================
For more information,
Press contact: Farid ZIZI, Director, farid.zizi@fracs.aero
France Aviation Civile Services (FRACS) : FRACS est le bureau d'expertise et de conseil de l'aviation civile française, créé par la DGAC et par l'ENAC. FRACS développe la base de données ATD du transport aérien qui existe depuis 1984 et propose des services d'analyse du transport aérien pour des clients autour du monde issus de l'aviation et d'autres modes de transport, des cabinets d'études et de conseil, des universités et des associations.
ALMAZ Aviation: ALMAZ Aviation développe des plateformes d'analyse dédiées aux acteurs  aéronautiques pour leur permettre d'analyser leurs données de manière rapide et interactive.
https://fracs.aero/wp-content/uploads/2021/10/ATD-Entete.jpg
332
705
admin_c4com
https://fracs.aero/wp-content/uploads/2019/08/FRACS-for-web-1.png
admin_c4com
2021-10-01 17:13:13
2021-10-25 21:26:32
France Aviation Civile Services and ALMAZ Aviation launch ATD Analytics