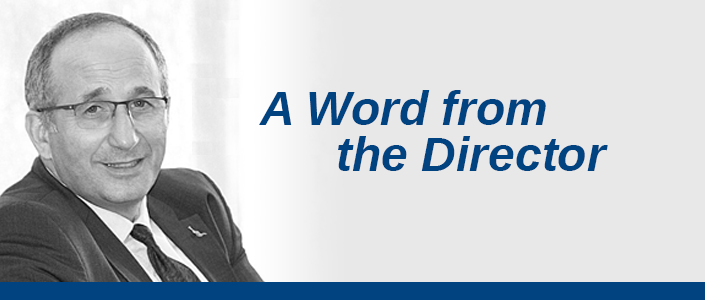 DSNA Services has just celebrated its five years of existence: five intense years marked by a wide range of projects, from the redesign of Sudanese airspace in 2018 to assisting with the development of OFNAC, Haiti's national civil aviation authority, as it enters a decisive phase in its evolution, and the development of a drone detection solution, HOLOGARDE, which was demonstrated at the Paris Air Show in 2017 and is currently in commercial production. The recent developments at Gatwick Airport have confirmed the relevance of this undertaking.
For a company, five years corresponds to childhood or adolescence, and after all these firsts, it is no doubt wise to step back, consolidate what we have learned and build a sustainable future that capitalizes on the initiatives—fortunate and unfortunate alike—that marked our first five years of existence.
The year 2018 was a year of transition with a change at the head of DSNA Services as well as a few changes in the team. The coming year should be one of structuring and consolidation on several fronts:
Clarification of the identity of the DSNA Services economic interest group;
Consolidation of the catalogue of services and the development of new services;
Upgrading of the information systems at its new premises on the ENAC campus;
Consolidation and development of partnerships; and finally,
Significant strengthening of the team.
DSNA Services would not exist without the numerous experts from DGAC and ENAC who lend a hand with various projects. They all belong to the same community dedicated to promoting the know-how of French Civil Aviation around the world. I would like to thank them for their commitment. Various initiatives involving experts and DGAC Services will be launched to reinforce the spirit of sharing and cooperation that drives us.
Among our strategic priorities for 2019 is the development of a strategy to position DSNA Services as an essential source of support for the implementation of ICAO Standards around the world. Our project to strengthen the Haitian national aviation authority should, I hope, be a good example. This will also be the case for the development of new services aimed at helping civil aviation authorities fulfil their obligations.
In conclusion, I wish to thank everyone who contributed to the success of our projects in 2018: the experts, clients, SMEs, corporate groups, DGAC services and ENAC, along with all the members of the DSNA Services team. The year 2019 will be our opportunity to reaffirm our values and our ambition to serve the safe, secure and sustainable development of civil aviation around the globe.
I wish you all and your families an excellent 2019.
https://fracs.aero/wp-content/uploads/2019/01/entete_articles_word-president-1.png
300
705
admin_c4com
https://fracs.aero/wp-content/uploads/2019/08/FRACS-for-web-1.png
admin_c4com
2019-01-07 10:11:54
2021-09-27 16:23:39
A Word from the Director