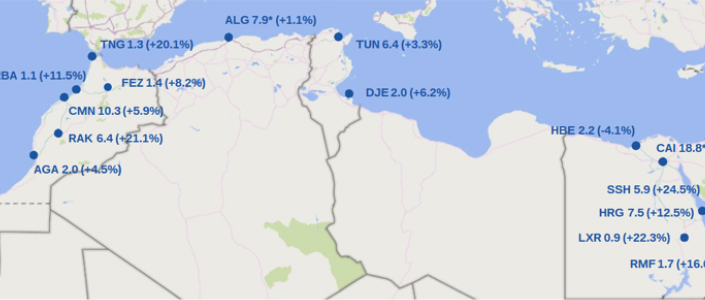 2019 Air Traffic Results, a First Overview by Our ATD Service
We note the current situation of aviation worldwide and hope that air transportation will soon recover from Covid-19 and find a prosperous and sustainable vitality.
The Air Transport Data team is feeding our databases with 2019 full-year results. The first data show a global slowdown in the increase of worldwide air traffic, the growth is estimated at +3.5% (provisional) compared to 2018.
All regions were impacted and saw increases between +3.0% and +4.0% in 2019. Africa is the only exception with a growth estimate close to +6.5% as recorded in 2018.
In Asia, two giants have lost their two-digit growths. Despite this slowdown, China registered a +6.8% increase in 2019 (+10.2% in 2018).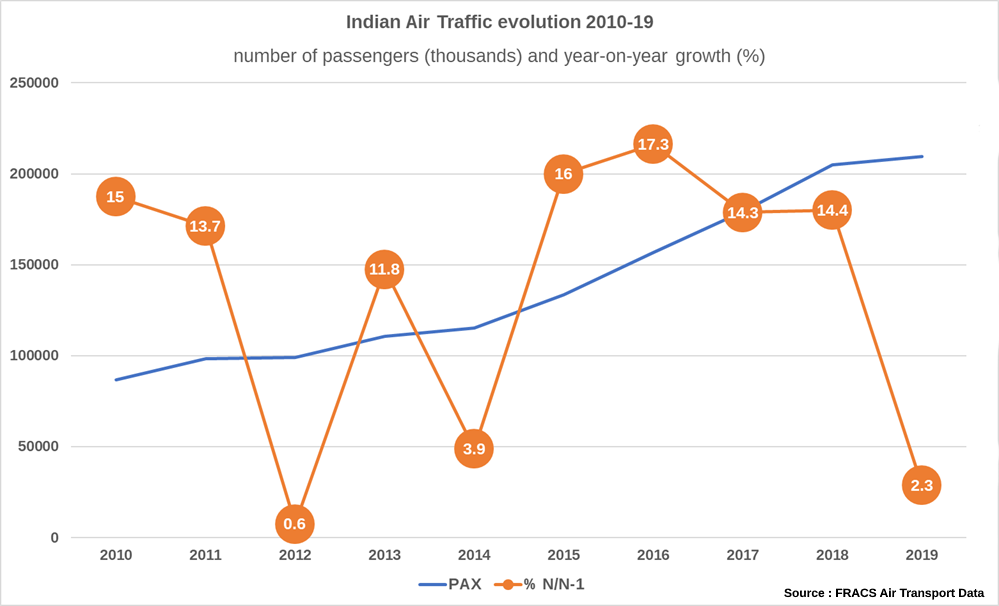 It is even more impressive in India, which was one of the fastest growing markets (multiplied by 2.5 in the last decade). In 2019, the growth was only about +2.4%, very little compared to the +14.4% in 2018.
The traffic has been disrupted by the bankruptcy of Jet Airways, one of the biggest Indian airlines.
---
Air passenger traffic growth in Latin America was about +4% in 2019 (provisional), there is a slowdown compared to 2018 (+5.9%). In 2018, the increase was mainly due to a wealthy international traffic, but, in 2019, it was very affected by the bad global economic context: Mexico (+2.5%), Colombia (+3.0%), Brazil (+0.2%).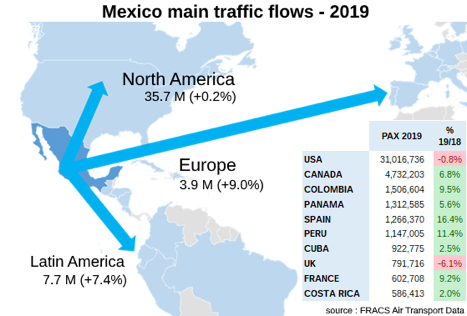 Domestic markets better resisted and even registered strong increases in some countries: Colombia (+12.7%), Chile (+11.3%), Mexico (+7.7%). Even Brazil recorded a small growth (+1.7%), despite troubles generated by the fall of Avianca Brasil (one of the 6 major airlines ceased in this region last year).
The following infographic shows more details on Mexico international traffic in 2019. The main cause of the slowdown was the traffic with the US (-0.8%), despite a strong growth with Europe (+9.0%) and Latin America (+7.4%).
---
In Europe, the decrease of the growth mainly came from the evolution of domestic traffic, especially in northern countries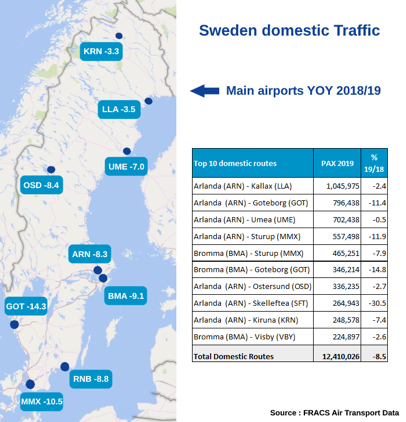 Sweden saw a decrease of air passengers in 2019 (-4.4%), mainly due to the performance of domestic traffic (-8.5%).
Same situation in the neighbouring countries of the country where the "flight shame" has begun which recorded a small decrease of domestic traffic: Germany (-1.9%), Norway (-2.4%), Finland (-0.9%).
Despite these results, it is too early to tell if there is a real link and if it is going to durably affect the aviation industry. Other factors had an influence on last year traffic, less capacity due to the 737 MAX crisis, airline bankruptcies…
---
The Africa air traffic increase resisted better than in the other regions. In the north, the growth was about +9.8% in 2019. Despite this strong increase, it is a slowdown compared to 2018 (+13.4%).
In Egypt, the growth remained an impressive +14.0% last year (+21.1% in 2018). The recovery of the tourism industry continues and popular destinations like Sharm-el-Sheikh (+24.5%) and Luxor (+22.3%) saw the strongest increases.
Same situation in Morocco, one of the rare countries recording the strongest increase in 2019 (+11.2%) compared to 2018 (+10.7%). It is also due to a wealthy tourism and the higher growths were registered in the cities of Marrakech (+21.1%) and Dakhla (+26.8%).
Tunisia traffic growth fell from +13.3% in 2018 to +3.6% last year. The national airline Tunisair has met some difficulties and had to decrease its flight frequency in 2019.
In Algeria, the number of passengers is still growing slowly +1.0% in 2019, not far from the +1.4% of 2018. The traffic has been affected by the fall of Aigle Azur in September, the airline was operating several flights between Algeria and France.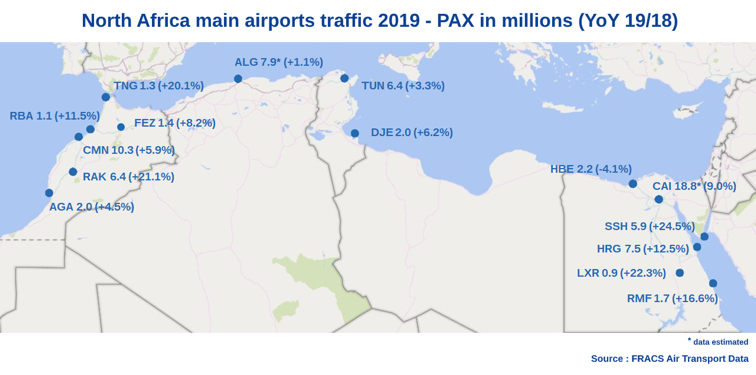 This is all for this first overview of 2019 airports results. More information is coming in our next publication in April, in which you will find the top 50 airports by region (PAX, movements and cargo data).
https://fracs.aero/wp-content/uploads/2020/03/entete-tour-1.jpg
300
705
admin_c4com
https://fracs.aero/wp-content/uploads/2019/08/FRACS-for-web-1.png
admin_c4com
2020-03-25 23:14:10
2020-07-07 16:16:19
2019 Air Traffic Results, a First Overview by Our ATD Service