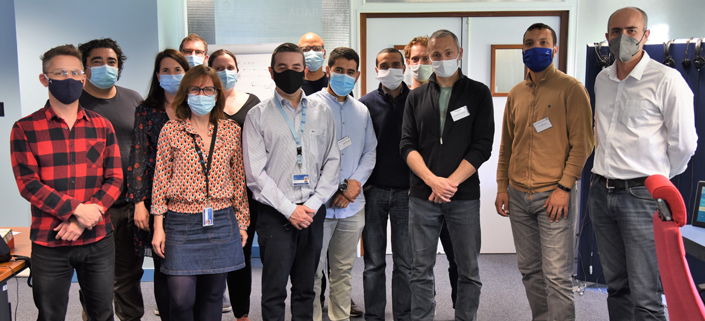 CONTINUATION OF THE COLLABORATION WITH EUROCONTROL
Within the framework of one of the three joint projects between France Aviation Civile Services and Eurocontrol to contribute to the performance of air navigation, France Aviation Civile Services has been asked to provide the Brétigny Expiremental Centre with support and the skills of 7 air traffic controllers to prepare the validation of the SOL56 concept. This concept led by Eurocontrol and involving 9 partners is part of the SESAR industrial research 4D Skyways Project ".
The key idea of this concept is to anticipate changes and/or use complex (multi element) CPDLC clearances (Controller-Pilot Data Link Communications) for new procedures that allow, among other things:
better alignment of Air and Ground trajectories, thus increasing predictability;
more strategic management of the ATC by modifying larger portions of the trajectory with reduced workload to issue tactical instructions
better situational awareness in the cockpit and more useful data on the aircraft's trajectory;
better safety awareness for the controllers thanks to 2D synchronization enabled by advanced use of on-board trajectory data and automation support for solving inconsistency.
To validate this concept, real-time simulations will be developed. The support provided by France Aviation Civile Services consisted in helping to prepare these simulations through two sessions.
A first session took place by visioconference on 13 April 2021 during which the air traffic controllers tested the training to give their observations in order to improve the training material.
The second 3-day session was held on 17, 18 and 19 May 2021 at the Experimental Centre in Brétigny, despite the health situation, thanks to the excellent preparation and organisation put in place by Eurocontrol. This session was conducted using the ESCAPE real-time simulator platform. The air traffic controllers were put in situation in simulated sectors and had to test the three air traffic controller positions in order to verify the relevance of the training for a validation of the simulation platform.
France Aviation Civile Services is pleased to have been able to provide its expertise to Eurocontrol and to allow it to be ready to carry out the real-time simulations of the new SOL56 concept necessary for its validation.
https://fracs.aero/wp-content/uploads/2021/06/Eurocontrol-Entete.jpg
332
705
admin_c4com
https://fracs.aero/wp-content/uploads/2019/08/FRACS-for-web-1.png
admin_c4com
2021-06-25 15:48:04
2021-09-27 16:01:41
CONTINUATION OF THE COLLABORATION WITH EUROCONTROL