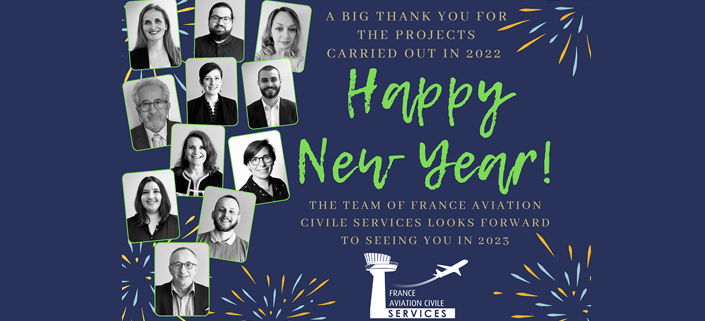 What to wish you and us on this new beginning year 2023? That we return to a peaceful situation, that the economic situation be favourable or that the aviation sector is strengthening in a sustainable way? Maybe all at once!!
The year 2022 was marked by the advent of a major war in Europe and the resumption of an inflationary cycle that did not fail to influence our sector which was barely recovering from the COVID pandemic. It has also been synonymous at the global level with major decisions, including the resolution of carbon neutrality in 2050 taken at the last ICAO Assembly.
For France Civil Aviation Services, its partners and all its customers, it was nevertheless a good year with new activities and in particular the launch of our DIADEME platform, PAPI calibration activities using drones, an enriched version of ATD Analytics, new projects with new countries, better connection with our industrial partners, the successful conclusion of SafeNcy project and the continuation of work with Haiti for the development of its supervisory authority. More than 2,000 pages of regulatory material have been developed to support OFNAC's efforts to comply to ICAO Standards.
2023 offers good perspectives despite the economic situation with the consolidation of our new services, several calls for tenders in progress and a renewed dynamic. FRACS team has grown at the end of the year with new arrivals, and we are very happy. This year should therefore be synonymous of consolidation but also innovation with new proposals, many ideas to be implemented and the development of sustainable balances at the service of international aviation.
In 2022, we were very happy to be able to count on new experts, in particular the team of pilots who were strongly involved in the SafeNcy project and new skills in terms of CNS and Airworthiness. This work will continue, alongside our partners, to best meet the requirements of our projects and at the service of our customers.
I would like to thank all those who stood by our side this year: our customers who have trusted us, the entire FRACS team, the experts in the projects, our partners, DGAC and ENAC services who supported us and have been of great help, as well as the students we continued to welcome.
On behalf of the entire team at France Aviation Civile Services, I wish you all an excellent year, with good health and success, both personally and professionally. I hope 2023 will offer us many occasions to cross paths and develop great cooperation.
https://fracs.aero/wp-content/uploads/2023/01/Entete-Noel-1.png
332
705
admin_c4com
https://fracs.aero/wp-content/uploads/2019/08/FRACS-for-web-1.png
admin_c4com
2023-01-23 00:03:16
2023-03-28 02:09:57
The word of the director