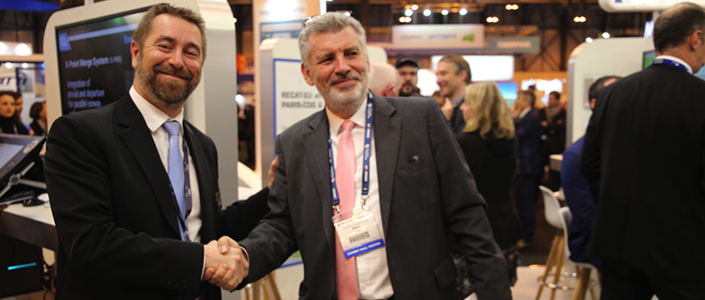 2018 World ATM Congress in Review
DSNA Services has once again participated in the latest edition of the World ATM Congress held in Madrid, from March 6th- 8th. This occasion continues to be the largest gathering of the world's international air traffic management community, featuring an exhibition hall and conferences attracting over 7,500 visitors each year.
The focus for this year's World ATM Congress: « Rapidly Changing Skies – Around the World »; poignant, as our sector is experiencing a prioritisation for modernisation, with the acceleration of technical development, causing the air navigation sector to become one of the most demanding, in terms of innovation.
In this context, DSNA Services chose to present two flagship products on stage, which included live demonstrations, during the World ATM Congress:
– ELVIRA®, the safety and environmental management tool
ELVIRA® makes it possible to effectively manage the entire safety system, with its capacity to manage, process and analyse large amounts of data to deliver objective results based on facts.
– Airspace Design: the optimisation of airspace capacity
DSNA Services together with Thales presented a conference focused on Airspace design and the links between airspace, capacity optimisation and change management. Because airspace optimisation is complex and involves a variety of technical and managerial processes, in order to obtain safe, effective and sustainable benefits, it is necessary to include change management.
Throughout the congress, at the DSNA Services stand, presentations could be observed on: calibration services in flight, ATC Supervisor training (developed in partnership with ENAC) and airspace optimisation. In parallel, a joint stand with Innov'ATM focused attention to drones:
HOLOGUIDE, an integrated drone UTM solution and
HOLOGARDE®, an integrated drone defense solution.
Both of these solutions were also featured during two conferences.
This year's congress was also an opportunity to formalise the partnership between DSNA Services and ENAC Alumni. Stéphane Durand, Executive Director of DSNA Services, and Philippe Tichadelle-Jué, President of ENAC Alumni, signed a partnership agreement which will generate opportunities to leverage each other's resources.
This signing marks the creation of the Alumni Expert Network, used for the development and deployment of alumni experts on DSNA Services projects abroad, as well as the promotion of collaborative activities between ENAC Alumni and DSNA Services.
We look forward to seeing you again next year for a new edition of the World ATM Congress!
https://fracs.aero/wp-content/uploads/2018/03/wac-1.png
300
705
admin_c4com
https://fracs.aero/wp-content/uploads/2019/08/FRACS-for-web-1.png
admin_c4com
2018-03-23 08:57:51
2018-09-04 09:00:19
2018 World ATM Congress in Review