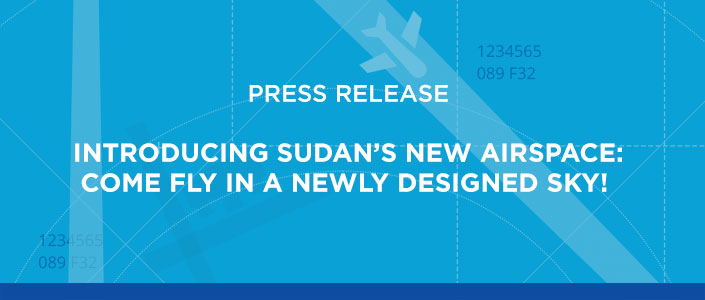 Introducing Sudan's New Airspace: Come Fly in a Newly Designed Sky!

Press Release
Madrid, SPAIN, March 6, 2018
The Sudan Civil Aviation Authority – SCAA, together with CGX AERO and DSNA Services are pleased to announce the implementation of Sudan's new airspace. After 2 years of development, the final sensitization workshop was held in Khartoum, Sudan the 8th of January 2018, which included more than 100 aeronautical stakeholders under the tutelage of the Sudanese Minister of Defense as well as the French and Jordanian Ambassadors in Sudan. Sudan's new airspace is safer, more efficient and environmentally friendly.
In 2016, SCAA announced its vision and ambition for a comprehensive, safer, cost-effective and efficient Sudanese airspace. This announcement responds to the exponential growth of African air traffic in conjunction with the economic perspectives of the region. Building a safer and more efficient route network over Sudan is highly attractive for overflying traffic and airline hub development.
In strong collaboration with international organizations (ICAO, IATA and CANSO), neighbouring countries, airlines and the military, SCAA, accompanied by French companies CGX AERO and DSNA Services, have designed an innovative and efficient airspace.
This new Sudanese airspace features 42 new RNAV routes, including 12 unidirectional routes, saving thousands of nautical miles per day. As a result, gas emissions will reduce, creating a positive impact on the environment while also generating significant economic savings for all stakeholders, in particular, airlines.
As a next step, SCAA plans the consolidation of the conventional network and the implementation of innovative concepts.
As a result of the implementation of this newly designed airspace, Sudan is now en route to become the 1stAfrican country to implement free route.
The Minister of Defense, Lt. Gen. Awad Mohamed Ahmed Ibin Oaf, declared his "great honour to become the first state in the region to restructure airspace in line with the operational modern requirements."
The French Ambassador in Sudan, Emmanuelle Blatmann, praised "a key cooperation for Sudan's aviation safety."
The Director General of SCAA, Captain Bajouri is "grateful to our French partners CGX AERO and DSNA Services, who spared no effort to assist us in technical operations."
Lindi-Lee Kirkman, Manager Safety and Flight Operations Africa, IATA, said "The new PBN route structure in the Sudan Airspace provides airlines with many opportunities to improve operational efficiencies in the Khartoum flight information region. We are delighted to have contributed to this ambitious project and are impatient to fly the new routes!"
For Moges Abara, Flight dispatch and Navigation manager of Ethiopian Airlines, "the new airspace exceeds our expectations."
Marc Chiesa, CEO of CGX AERO and Stephane Durand, Executive Director of DSNA Services are "honoured to have accompanied SCAA in this very demanding and ambitious challenge. It is the result of an excellent long-term cooperation between Sudanese and French civil aviation experts."
For digital images accompanying this story, please click HERE
---
À propos de DSNA Services
DSNA Services, expertise and consultancy office of the French Civil Aviation, was founded by DGAC & ENAC in 2013. DSNA Services delivers customizable and innovative solutions for its global client network spanning regulation & safety, operations and operational training in civil aviation.
Contact
Elodie de CAZENOVE
DSNA Services
elodie.de-cazenove@dsnaservices.com
+33 6 61 10 14 83
Suivez-nous sur :
www.dsnaservices.com
Twitter : @DSNAServices
---
About CGX AERO
Since 1996, CGX, a 80 persons SME based in Castres, Labège and Grenoble, designs and develops business solutions that aim at enhancing the native functionalities of major geographic information systems for aerospace as well as Defence & Civil Security. Today, CGX operates in more than 50 countries.
Contact
Eric POISSON
CGX AERO
eric.poisson@cgx-group.com
+33 6 2361 72 48
Suivez-nous sur :
www.cgx-group.com
LinkedIn : CGX AERO
https://fracs.aero/wp-content/uploads/2018/07/entete_soudan-pressrelease.jpg
300
705
admin_c4com
https://fracs.aero/wp-content/uploads/2019/08/FRACS-for-web-1.png
admin_c4com
2018-03-07 13:44:42
2018-07-11 14:13:26
Introducing Sudan's New Airspace: Come Fly in a Newly Designed Sky!