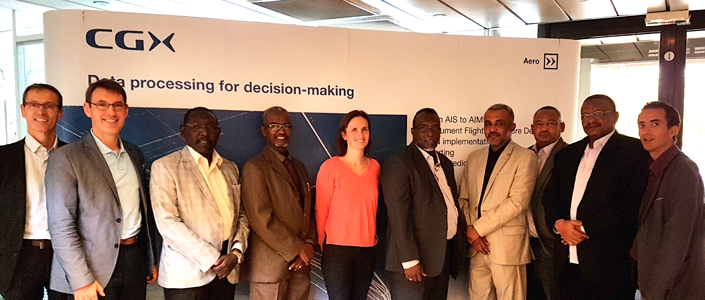 Restructuring Sudan Airspace: A Joint High Level Workshop to Fix the Implementation Roadmap
DSNA Services and CGX AERO accompany Sudan Civil Aviation Authority (SCAA), in restructuring Sudan airspace; a major step of the global Air Navigation Renewal.
From September 11th to September 15th 2017, a high-level workshop was held in Toulouse, France, to define the ways and means of an implementation plan to complete the restructuration of Sudan's airspace. The project focus has been centered on enhancing efficiency while maintaining safety.
This significant challenge entails over 50 new RNAV routes including 30 direct and unidirectional routes and a strong civil-military commitment. With this project, Sudan could become the first African country to implement the Free Route airspace concept.
The project was launched in 2016, using small and responsive teams set up by the SCAA, along with its French partners. In addition to the main objective, new airspace design, a major goal has been to achieve a productive knowledge transfer across all fields impacted by this project.
To anticipate and manage the substantial change, all stakeholders were involved as soon as the project began, including: the service provider, the National Supervisory Authority, the users – military and airlines, as well as neighbouring countries.
An international conference was held in Cairo in June 2016, which included the contribution of IATA and ICAO regional offices, to present the project to all stakeholders. This stage allowed stakeholders to present the project, collect feedback and obtain the airlines' buy-in.
International workshops were conducted by the French project team on a wide range of subjects: Performance Based Navigation (PBN), concept of continuous descent and continuous climb operations, safety studies and "Just Culture", etc.
Team experts also supported the SCAA in negotiating the Letters of Agreement with neighbouring countries and updating their operations manual.
The 5-day workshop in Toulouse in September 2017 gathered high-level experts of PBN, ATC Systems, Procedure Design and executive ATC from SCAA, DSNA Services and CGX AERO.
A two-step implementation plan has been drafted. To meet the airline's highest priority, the first step will be the implementation of the new RNAV network planned in March 2018. The second step will be the Free Route and Flexible Use of Airspace implementation.
The next awareness workshop involving key stakeholders is expected in November 2017 in Khartoum.
https://fracs.aero/wp-content/uploads/2018/07/Article3-Soudan-web.png
300
705
admin_c4com
https://fracs.aero/wp-content/uploads/2019/08/FRACS-for-web-1.png
admin_c4com
2017-10-04 12:25:12
2018-07-11 12:41:22
Restructuring Sudan Airspace: A Joint High Level Workshop to Fix the Implementation Roadmap