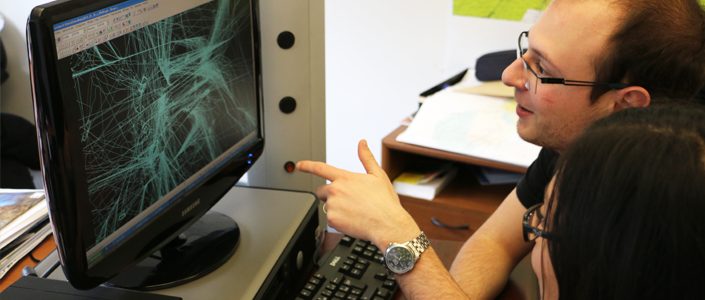 ELVIRA® : BELGOCONTROL Chooses the Complete Suite to Manage Safety and Environment
ELVIRA ® is the Safety and Environment Manager Tool developed by DSNA, the French Air Navigation Service Provider (ANSP) to be focused on operations. ELVIRA ® allows replaying of air traffic, but also simulation and testing scenarios for increasing safety, to better protect the airport environment and optimise operations.
With more than 10 years of experience and 280 users in the world, ELVIRA® is a unique multi-purpose tool which meets the most demanding requirements thanks to its independent modules.
After 3 years using the Technical-A-SMGCS [1] module, BELGOCONTROL decided to install the complete ELVIRA ® suite. DSNA Services' experts trained the onsite Surveillance and Environment teams in Brussels from September the 11th to the 15th on the newest 2017 software version.
"For BELGOCONTROL, environment is a very important factor, for which purchasing a dedicated operational tool is an asset. After the on-site training, my team is enthusiastic to use the many functionalities provided by this latest version," says Marylin Bastin, Head of Environment & Procedure Design, Strategy & Performance at BELGOCONTROL.
ELVIRA ® proposes visualisation and analysis of trajectories. It automatically detects trajectory deviations, destabilized approaches and continuous descent. It counts trajectory flows for each volume. It can also produce an airport's occupancy statistics.
To manage safety, ELVIRA ® detects and analyses safety occurrences. It also enables safety assessment of new trajectories. In addition, the technical module offers ground surveillance tools. "ELVIRA ® is the centrepiece of our safety management system at Paris CDG airport" according to Patricia ITHIER, Safety Division – Paris CDG.
To optimise operations, the ATM module provides key ground performance indicators, runway occupancy time and airspace capacity evaluation, in near real time.
The intuitive software interface and the multi-functionalities bring our clients an accurate, user-friendly tool to manage Safety, Environment and Operations optimisation.
For demonstration, please contact Élodie de Cazenove
[1] Advanced-Surface Movement Guidance and Control Systems
https://fracs.aero/wp-content/uploads/2018/07/Article2-Elvira-web.png
300
705
admin_c4com
https://fracs.aero/wp-content/uploads/2019/08/FRACS-for-web-1.png
admin_c4com
2017-10-04 14:19:20
2018-07-11 14:21:32
ELVIRA® : BELGOCONTROL Chooses the Complete Suite to Manage Safety and Environment