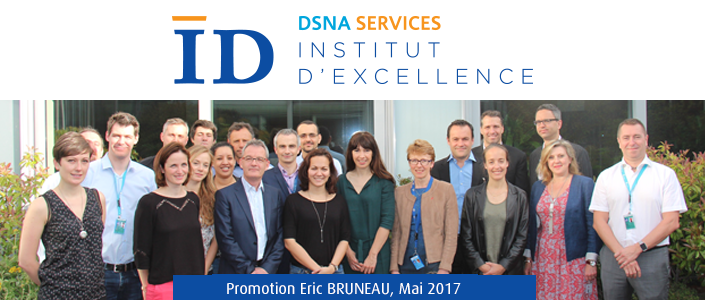 Want to become an International Consultant? It's Possible with ID – the Institute of Excellence by DSNA Services.
On April 5th 2017, DSNA Services launched ID – Institute of Excellence (ID), a 4-day training programme which aims to provide DGAC experts with the knowledge and competencies to become international consultants.
ID was born from a shared view between DSNA Services, its members (DGAC and ENAC) and experienced international experts, concerning the importance of providing our consultants with the skills and approaches to succeed in the international environment, through a focused training programme.
Based on DSNA Services' experience and market needs, the programme consists of 2 phases:
Phase 1 (2 days): general presentation of DSNA Services (status, missions, vision, members, permanent staff, partners, ongoing projects…), presentation of the consultant's mission (introduction to business development, mission preparation, on-site mission, guidelines for deliverables, contractual and administrative relations with DSNA Services…);
Phase 2 (2 days): practical training including case studies on realistic deliverables.
Through its "2 + 2 days" of intense and organised training, ID opens the floor to high-level speakers from the DGAC and partner companies operating in the civil aviation industry. Each professional brings their perspective, either institutional or corporate, creating a one of a kind opportunity to better understand the specific opportunities & challenges faced by international consultants!
With Mr. Éric BRUNEAU, Chief Operating Officer at DSNA, as the 2017 ID Sponsor, the Institute of Excellence has prestigious support and already counts two cohorts who took part in the first phase of the programme (ID1.1 on May 17-18 2017 and ID2.1 on September 6-7 2017). Our 30 future consultants are looking forward to starting the practical phase to be fully prepared for DSNA Services' 'international projects!
Finally, as emphasised by Mrs. M.-C. DISSLER (Secretary General of DGAC and Special Guest of the first two sessions – ID1&2):
"Experts are expected to use their knowledge and professional experience to assist international customers in precisely identifying and understanding problems and, with their skills, expertise, methods or processes, to provide efficient and lasting solutions, which they would help implement, or processes and methods, which they would be able to transmit."
The Institute of Excellence of DSNA Services is a platform which aims to complement the technical competencies of DGAC experts by providing international consulting skills in order to promote French expertise in civil aviation around the world.
The Institute of Excellence is open to all Civil Aviation profiles.
Interested? Please follow us on social media to learn about upcoming sessions. Don't hesitate to send us your CV, we hope to see you soon!
https://fracs.aero/wp-content/uploads/2018/07/Article1-ID-web.png
300
705
admin_c4com
https://fracs.aero/wp-content/uploads/2019/08/FRACS-for-web-1.png
admin_c4com
2017-10-04 14:28:25
2018-07-17 09:56:18
Want to become an International Consultant? It's Possible with ID – the Institute of Excellence by DSNA Services.