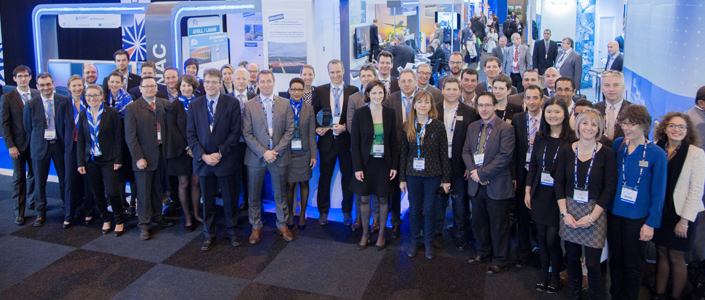 DSNA Services Will Return to Madrid for the 2018 World Air Traffic Management Congress!
The World ATM Congress (WATM Congress) will be held from March 6th-8th, 2018, in Madrid, welcoming over 7,500 visitors and 225 exhibitors from 133 countries. This congress represents the largest ATM show in the world, bringing together air navigation service providers, system and service suppliers, as well as international organisations.
Celebrating its fifth consecutive year at the WATM Congress, DSNA Services will participate in the 3-day event, alongside DSNA and ENAC, through client meetings, presentations with partners and consultants of the ATM World, attend demonstrations and conferences on innovative topics such as capacity optimisation, digitalisation of air traffic control or safe and efficient integration of drones into the airport environment.
This year, DSNA Services will take the stage to lead a discussion with Thales on « Optimising airspace and airport capacity for safe, efficient and sustainable benefits ». This is a particularly important issue for the ATM community because optimising airspace and airport capacity are complex projects involving not only systems integration but also new procedures, new working methods and transfer of competencies to empower the client staff. We'll talk in particular about the change management process which enables sustainable benefits.
For DSNA Services, the WATM Congress is a major annual event: providing the opportunity to share success stories from missions executed abroad, which in turn serve to promote French expertise and know-how alongside DSNA and ENAC; but the WATM Congress also serves to foster collaboration opportunities with our French partners, such as Thales, Innov'ATM or CGX.
Planning a trip to Madrid for the WATM Congress? We invite you to come and discover the solutions we will be showcasing at our stand, such as flight checks, ATC Supervisors training, airspace design and Elvira. We will also be demonstrating two innovative drones solutions: HOLOGARDE, a long-range integrated drone defense solution and HOLOGUIDE, enabling situational awareness for drones advancement.
DSNA Services/ DSNA/ ENAC will be located at booth #480.
For more information on the World ATM Congress, please visit: www.worldatmcongress.org
Follow us on twitter @DSNAServices and at dsnaservices.com for updates and news, live from Madrid!
https://fracs.aero/wp-content/uploads/2018/07/entetes-web-wac2018.jpg
300
705
admin_c4com
https://fracs.aero/wp-content/uploads/2019/08/FRACS-for-web-1.png
admin_c4com
2018-01-09 14:16:32
2018-07-11 14:17:48
DSNA Services Will Return to Madrid for the 2018 World Air Traffic Management Congress!