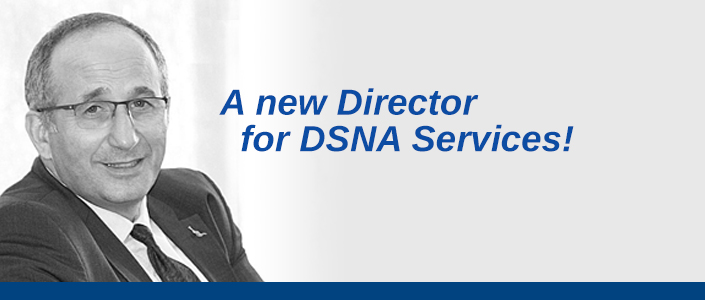 A New Director for DSNA Services!
Dear clients, partners and readers,
I have long been interested and involved in international activities and cooperation, and it is therefore with great enthusiasm that I take the lead of DSNA Services.
The purpose of civil aviation is essentially to cross borders, link with remote regions and connect the world for peace and prosperity. DSNA Services represents all of these dimensions in a spirit of dynamic cooperation and an objective to contribute to the growth of air traffic safely, effectively, and in an economically beneficial way.
Building on the solutions and know-how of French civil aviation, DSNA Services will continue in the coming months to remain attentive to the needs of the various regions of the world with an approach that is both structured and sustainable. I will draw on my previous experience to maintain the initiative and ambition that has characterized DSNA Services to date, and I have deep appreciation and respect for the investment, enthusiasm and energy of my predecessor, Stéphane Durand, who is moving on to other exciting projects.
In anticipation of meeting you in the coming months, let me tell you a little about myself. With just over 30 years of experience in civil aviation, I have been fortunate enough to work in a variety of areas: air traffic control, where my responsibilities ranged from operations to system management; education and research at ENAC, which spanned the entire air transport domain; ICAO, within the Air Navigation Commission; and as a senior adviser at DGAC. I have been afforded the possibility of being involved in all disciplines that contribute to the sound running of global aviation, the management of risks specific to the domain, and the development of competencies for its most direct stakeholders. My aim is ensure that DSNA Services, its clients and partners are able to benefit from both my experience and the passion I have had for this sector throughout my career.
I will work to develop constructive, respectful and sustainable relationships with each of you—clients, partners, experts and aviation stakeholders—based on a mutual understanding of our respective expectations.
I know that we share an ambition to contribute positively to the challenges of global civil aviation, and I look forward to our productive collaboration.
Best regards,
Farid ZIZI, Director
https://fracs.aero/wp-content/uploads/2018/09/entete_farid.jpg
300
705
admin_c4com
https://fracs.aero/wp-content/uploads/2019/08/FRACS-for-web-1.png
admin_c4com
2018-09-07 13:11:51
2021-09-27 16:25:24
A New Director for DSNA Services!