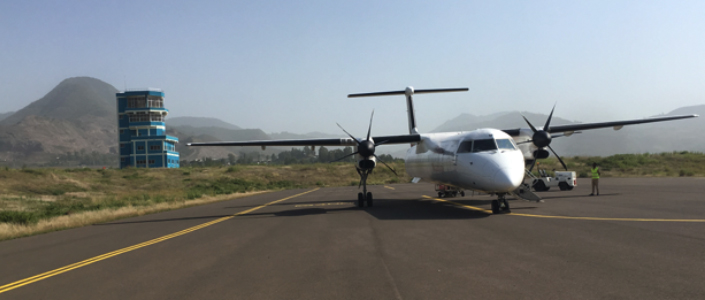 FRACS Accompanies the AFD to Analyse an Ethiopian Project to Upgrade Regional Airports
In a context of fast-growing traffic, Ethiopian Airlines Group (EALG), grouping Ethiopian Airlines (annual growth of about 25%) and Ethiopian Airport since 2017, is planning major infrastructure and rehabilitation projects for its international, national and regional airports.
To finance its project to upgrade 7 regional airports, EALG is under discussion with the Agence Française du Développement (AFD) for a loan.
France Aviation Civile Services (FRACS) – ex DSNA Services, together with Aéroports Côte d'Azur, have been selected by AFD to assess the technical and economic relevance of the project and to challenge the bidding documents.
The AFD funds, supports and accelerates the transition to a more just and sustainable world, with a focus on the environment. Hence, it expected FRACS and Aéroports Côte d'Azur to enhance EALG project with a roadmap for energy efficiency for all Ethiopian airports, including Bole International Airport.
In three months, with an on-site visit of Bole International Airport and Kombolcha Airport (regional airport with 2 daily connections to Bole), FRACS and Aéroports Côte d'Azur provided AFD with:
• A critical analysis of the project: analysis of the current situation, of EALG forecasts and a comparison with other relevant airports;
• Bidding documents review, both from a technical and administrative perspective;
• A roadmap project for energy efficiency.
FRACS is honoured to have successfully accompanied the AFD. It is our second project together with AFD after supporting the Agency during the procurement process for the "Phase B" study of the future SBAS (Satellite-Based Augmentation System) strategic program, implemented by the ASECNA (Agency for the Safety of Air Navigation in Africa and Madagascar).
We wish all the best to Ethiopian Airlines Group in continuing to support and boost the air traffic growth in Ethiopia with respects to the environment.
https://fracs.aero/wp-content/uploads/2019/09/entete_article_ethiopie.jpg
300
705
admin_c4com
https://fracs.aero/wp-content/uploads/2019/08/FRACS-for-web-1.png
admin_c4com
2019-09-12 23:56:33
2021-09-27 16:21:50
FRACS Accompanies the AFD to Analyse an Ethiopian Project to Upgrade Regional Airports