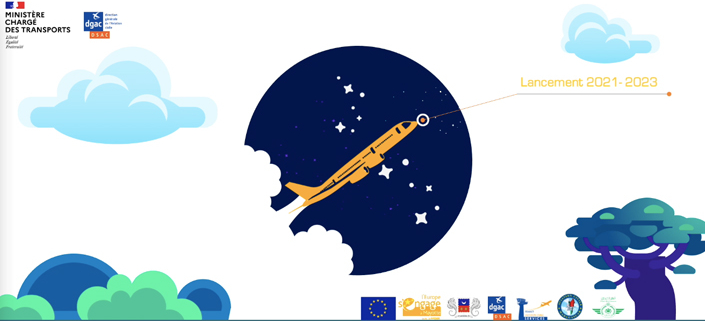 France Aviation Civile Services and Indian Ocean Civil Aviation Safety Directorate cooperate with Comoros and Madagascar
A European Interreg V Mayotte-Comoros-Madagascar program has been set up to promote and co-finance cooperation projects designed and implemented by actors located in the three cross-border territories. The projects proposed in the framework of this program shall promote the development of tourism and contribute to the improvement of inter-island transport by sea or air, amongst other things. This program benefits from European Union funding in the form of the European Regional Development Fund (ERDF), the managing authority of which is the Prefecture of Mayotte.

It is in this context that a grant application was submitted and granted by the Prefecture of Mayotte for the financing of a project aimed at strengthening the capacities of the civil aviation authorities of the Union of the Comoros and Madagascar. The estimated cost of the project is €1,521,115 of which €1,014,127 will be financed by the ERDF.

The project will run for three years starting January 1st, 2021, and will be implemented by a consortium comprising the Mayotte delegation, which is the project leader, the Indian Ocean Civil Aviation Safety Directorate and France Aviation Civile Services (FRACS). The beneficiary partners of this project are the Civil Aviation of Madagascar (ACM) and the National Agency of Civil Aviation and Meteorology of the Union of Comoros (ANACM). They will benefit from support to harmonize their regulations with ICAO and/or European standards, and to strengthen their surveillance skills and provide them with trained experts to accomplish their missions. These two civil aviation authorities will be closely associated with the implementation of the project through a partnership agreement.

The actions that will be carried out will cover the following topics: Airports, Security, Training, Environment, Accident Response.

FRACS will provide expertise, in addition to that of the Indian Ocean Civil Aviation Safety Directorate and will provide support in the financial management of this project.

FRACS is pleased to take part in this regional cooperation program, which will create synergies to improve the supply of inter-island air transport and promote trade and tourism development in the region.
https://fracs.aero/wp-content/uploads/2021/04/Infolettre-Avril2021-Entete.jpg
332
705
admin_c4com
https://fracs.aero/wp-content/uploads/2019/08/FRACS-for-web-1.png
admin_c4com
2021-04-20 20:45:16
2021-09-27 16:01:59
France Aviation Civile Services and Indian Ocean Civil Aviation Safety Directorate cooperate with Comoros and Madagascar