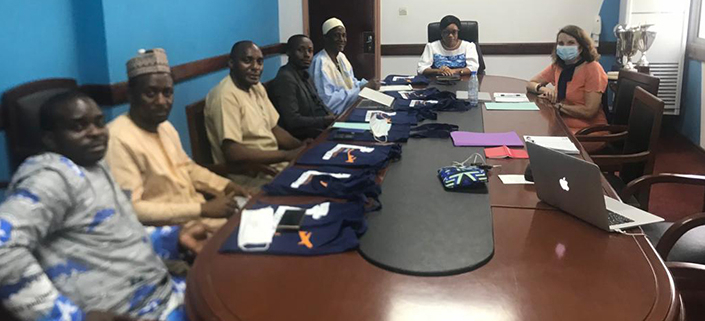 On 3rd March, a contract was signed between the Cameroon Civil Aviation Authority (CCAA) and France Aviation Civile Services to assist the authority in carrying out wildlife studies for the Yaoundé-Nsilamen and Douala airports.
This is the second project for which the CCAA has decided to renew its trust in France Aviation Civile Services.
Indeed, in 2018 and 2019 the CCAA benefited from the expertise of France Aviation Civile Services for the elaboration of the aeronautical easement plan on the Bafoussan airport.
The technical support that France Aviation Civile Services will provide, within the framework of this new contract, will focus on the training of local biologists who will be called upon to draw up a precise map of the animal species present on the two airport platforms. In addition, remote monitoring of the trained biologists will be set up for one year during the observations of the animal species present at these airports. The collection of this information will then allow the CCAA to have a precise assessment of the wildlife risk in order to better adapt its risk prevention policy.
France Aviation Civile Services has mobilised two experts from the Service Technique de l'Aviation Civile (STAC) to carry out these activities.
The assessment of wildlife hazard on aerodromes is a process governed by several standards of the International Civil Aviation Organization (ICAO). It makes it possible to identify, on each aerodrome, the animal species considered problematic for air safety with regard to the collisions in which they are involved and their presence throughout the year on the aerodrome and its surroundings.
France Aviation Civile is pleased with this new cooperation with the CCAA and to share with it, through its experts, its experience and knowledge in this field.
https://fracs.aero/wp-content/uploads/2022/03/Entetes-Articles-Cameroun.jpg
332
705
admin_c4com
https://fracs.aero/wp-content/uploads/2019/08/FRACS-for-web-1.png
admin_c4com
2022-03-15 23:04:40
2022-07-25 17:06:57
PROJECT WITH CAMEROON