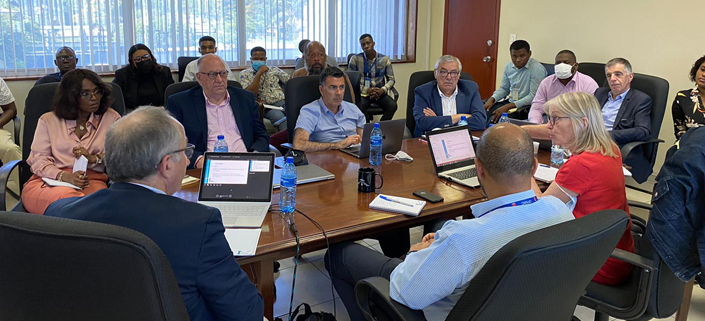 Significant progress in the development of the National Surveillance Authority in HAITI!
Last year, we informed you of the resumption of our collaboration with "l'Office National de l'Aviation Civile" (OFNAC) under the auspices of the World Bank for the development of the Supervisory Authority in Haiti.
After 9 months of intensive work between the teams of OFNAC and those of France Aviation Civile Services (FRACS), we are pleased to inform you of the significant step that the project has taken with the delivery by France Aviation Civile Services of a renovated regulatory corpus, updated with the latest amendments to the ICAO Annexes and which covers the areas of Licensing (PEL), Air Operations (OPS), Airworthiness (AIR), Air Navigation (ANS), Airports (AGA) and State Safety Plan (SSP).
No less than 22 regulations (RACH: Haitian Civil Aviation Regulations) have been developed and delivered to OFNAC at the end of July 2022. They are currently being reviewed before a future publication. Priority has been given to Haiti's international obligations and these regulations will be supplemented on domestic aspects in the next phase. They are the result of regular and frequent collaboration between OFNAC and FRACS, despite the constraints of COVID. FRACS thanks OFNAC for its strong involvement in this work despite the difficult context in Haiti.
At the end of this phase of the project, as it will be the case in the next phases, a comprehensive assessment of ICAO's audit questions on regulatory aspects has been carried out and, to our great satisfaction, it is clear that the body of regulations developed addresses the vast majority of questions. Once the regulations have been published, this will put OFNAC in a position to see its compliance rate with ICAO standards increase considerably.
It is therefore a new phase that is beginning with, of course, the completion of the regulatory work and to develop the surveillance manuals in each discipline, initial versions of which already exist. This phase will also include a very important component of skills development and training and will be an opportunity to stabilize the organization of the new DSACH. It is therefore with renewed energy that we are committed to it alongside our colleagues at OFNAC.
This new stage of the project should lead in a year to the gradual implementation of surveillance activities by the Haitian Authority and it is important that all Haitian air transport stakeholders mobilize in this perspective. A number of awareness-raising exchanges have already taken place, but this work must be intensified in the coming months.
The year that begins will give rise to many exchanges and assiduous work of FRACS and OFNAC teams. We therefore look forward to seeing you in a year's time to see further progress made by Civil Aviation in Haiti, which we hope will have been formalized by ICAO.
https://fracs.aero/wp-content/uploads/2022/09/Haiti-Entete.jpg
332
705
admin_c4com
https://fracs.aero/wp-content/uploads/2019/08/FRACS-for-web-1.png
admin_c4com
2022-09-16 19:52:33
2022-09-16 20:07:22
Significant progress in the development of the National Surveillance Authority in HAITI!