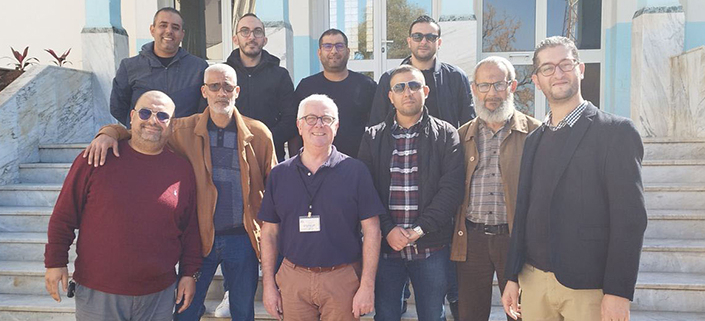 Successful training for Algeria on the new AMHS ground-to-ground telecommunications standard
ENNA, l'Établissement National de la Navigation Aérienne, is responsible for ensuring the public service of air navigation safety in Algerian airspace.
ENNA wanted to train the operators of the Algiers Com Center in the migration to the new ground-to-ground telecommunications standard, AMHS (Air Traffic Services Message Handling Services).
France Aviation Civile Services proposed an "AMHS Operation" training course for operators. This training is based on both a theoretical and an operational part. This enables operators to master international requirements and advanced AMHS functions. They are put into operational situations, with possible events in operation and practical cases of AMHS implementation, in France and abroad.
The course, which took place in March 2023, was a great success, with 100 % of trainees saying they were very satisfied or found the training excellent! Trainees particularly appreciated the fact that the course was led by operational experts just like themselves.
The trainers have been working for the DSNA in France for many years and have excellent knowledge of AMHS systems and their various functionalities. Indeed, they have contributed directly to the implementation of AMHS at DSNA. They were also able to share FRACS' international experience, particularly in Cameroon, Côte d'Ivoire and Argentina. The key to success for a real transfer of skills!
FRACS is delighted with the interest shown in this operational training course, and thanks ENNA for its loyalty. Indeed, this is the 2nd session with ENNA and the 9th session run internationally since 2018.
Thank you to the trainers and congratulations to the ENNA trainees! This training is a milestone their AMHS project and we wish them every success.
https://fracs.aero/wp-content/uploads/2023/07/Algeria-Entete.jpg
332
705
admin_c4com
https://fracs.aero/wp-content/uploads/2019/08/FRACS-for-web-1.png
admin_c4com
2023-07-25 22:29:54
2023-07-25 22:29:54
Successful training for Algeria on the new AMHS ground-to-ground telecommunications standard