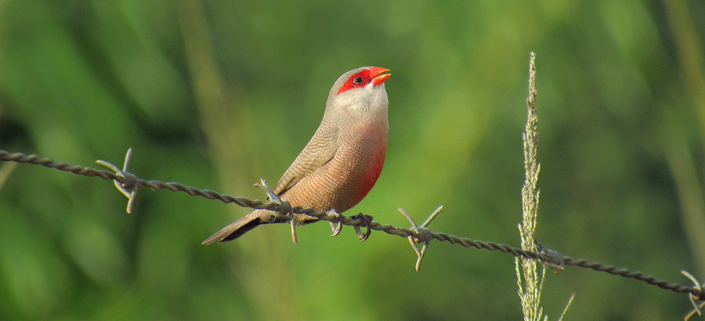 Reef egret and Orange-cheeked Astrild: FRACS accompanied Cameroon on a wildlife survey
Reef egret and Orange-cheeked Astrild… these are two of the eighty (80) bird species observed in and around the Douala aerodrome by biologists from the Cameroon Civil Aviation Authority (CCAA) as part of a wildlife study carried out with the support of FRACS.
The presence of birds and animals in and around airports is a threat to flight safety worldwide. Cameroon's airports have not been spared, due to the large and ever-increasing number of events linked to avian and animal risks recorded over the last five years.
In order to mitigate the risks in and around Cameroon's airports, the CCAA commissioned FRACS to carry out a wildlife study in Douala and Yaounde. The study was carried out from June 2022 to May 2023 with experts from the French DGAC's Service Technique de l'Aviation Civile (STAC).
STAC has developed a methodology based on the measurement of a collision risk level and an animal hazard level. The aim is to assess the animal hazard of aerodromes, in line with international recommendations.
This approach makes it possible to define a set of graduated courses of action for each of the animal species present at the aerodrome.
For this project, STAC experts provided remote support to the CCAA for:
training biologists previously selected by the CCAA;
providing tools for carrying out the study;
monitoring the observations made by the biologists;
examining the data collected.
With this remote support, the CCAA team of biologists carried out field observations and analyzed the data. They then drew up a map of the species observed, including:
identification of the bird species frequenting the airport and its immediate surroundings;
analysis of the behaviour of each species identified;
assessment of the animal hazard level of each species.
The wildlife study was carried out in excellent cooperation with the CCAA and enabled to share knowledge and experience. FRACS is delighted to have successfully completed this second project with the CCAA, following on from its support in setting up the Bafoussam aeronautical easement plan.
https://fracs.aero/wp-content/uploads/2023/09/Entete-oiseau-article3-2.jpg
332
705
admin_c4com
https://fracs.aero/wp-content/uploads/2019/08/FRACS-for-web-1.png
admin_c4com
2023-09-21 19:46:42
2023-10-30 20:44:48
Reef egret and Orange-cheeked Astrild: FRACS accompanied Cameroon on a wildlife survey