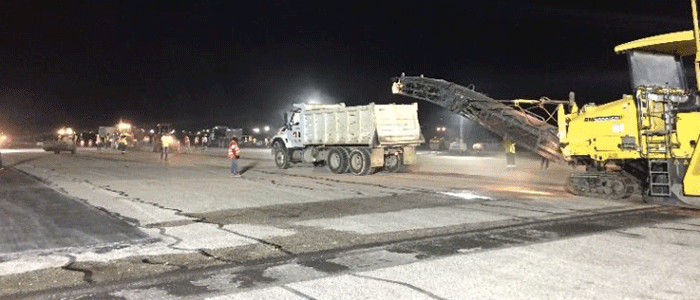 A new runway and 4D ICAO airport classification for Haiti
In November 2017, DSNA Services and ADP-I were entrusted by the Minister of Public Works, Transport and Communications of the Republic of Haiti, the monitoring and supervision of the rehabilitation works and widening of the runway of Port-au-Prince Toussaint Louverture International Airport (AITL).
This major work, amounting to $ 22 million and made possible thanks to the financial support of the Inter-American Development Bank (IDB), will enable Haiti's main airport to be equipped with a brand new runway by October but also to reach category 4D ICAO.
Every night for nearly a year, the RAZEL-BEC / V & F Construction SA Group is carrying out this rehabilitation work, widening the runway to 45m, fitting out the drainage system, electrical installation and lighting, safety zones and easements, under the supervision of the Control Mission.
DSNA Services Operational Safety experts are mobilized on site to ensure that the work is carried out by complying with rules of the art, respecting the general and specific requirements of the works, as well as the time constraints and the budget for the work delivery. They also play the role of relay and transmission belt between the various actors of the platform, institutions and operators, and the stakeholders in the execution of works, and coordinate the activities of BETA Ingénieurs – Conseils, local subcontractor representing the technical monitoring team. They teach and share good practices and mitigation measures on the job site, and to all stakeholders, in order to ensure the level of safety required for such work.
Since the beginning of the project, 55,000 tons of asphalt was poured to rebuild the runway, the width was increased from 42 to 45m (+ 7.5m of verges on both sides), the day and night lighting system were completely renewed and the cross-sections have been reduced from 2.5 to 1.5%, resulting in nearly half a million cubic meters of earthworks. Each night, to put the 900 tons of bituminous asphalt, 300 men and nearly 250 mobiles awake and begin their ballet that will last until the early morning, before the planes start calling to begin their descent to the Pearl of the West Indies.
Scheduled to end before the end of October, the runway has yet to be installed with a new PAPI (Precision Approach Path Indicator), a few tons of asphalt and especially the day markings by paint marks, final touch but which requires favorable weather conditions.
DSNA Services is proud to participate in this project, constituting a major step in modernizing Haitian civil aviation and enhancing aviation safety in the country.
https://fracs.aero/wp-content/uploads/2018/10/article3-piste-WEB.gif
300
700
admin_c4com
https://fracs.aero/wp-content/uploads/2019/08/FRACS-for-web-1.png
admin_c4com
2018-10-09 10:10:54
2021-09-27 16:24:36
A new runway and 4D ICAO airport classification for Haiti