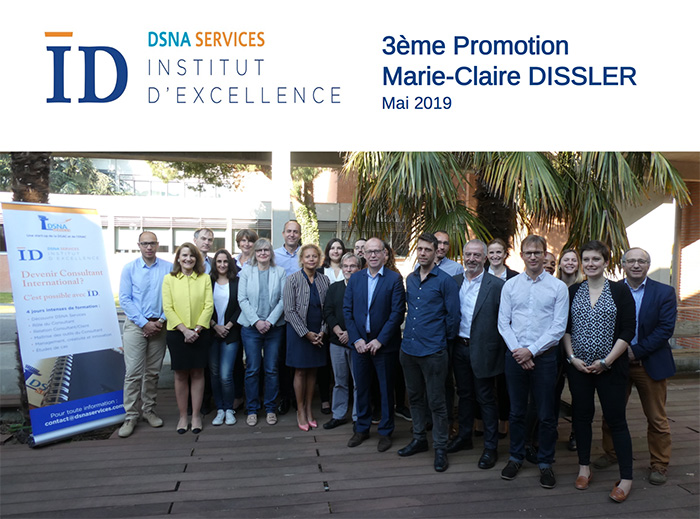 In May 2019, DSNA Services organized its 3rd Institute of Excellence (ID), a four-day training program aimed to bring DGAC experts with the knowledge and skills to become international consultants for DSNA Services projects.
The ID was born from the observation shared by DSNA Services, its members (DGAC and ENAC) and experienced International Experts, of the importance of supporting specific activities of international consultants through adapted training.
Based on the experience and needs of DSNA Services, the training is composed of 2 phases:
Phase 1 (2 days): knowing DSNA Services (general presentation of status, missions, vision, founding members, permanent teams, partners, projects …), understanding the mission of the Consultant (concept of commercial development, preparation and mission on site, deliverables, contractual and administrative relationship with DSNA Services, etc.);
Phase 2 (2 days): in-depth look of phase 1 with concrete situations and training in the production of deliverables.
Through its two sessions, the ID involves trainers and speakers from the DGAC and partner companies of DSNA Services working in the aeronautical area. Each brings a vision, whether institutional or business-oriented, a rare opportunity to better understand and access the particular mechanisms of international projects!
With Marie-Claire DISSLER, General Secretary of the DGAC, as a sponsor of the Year 2019, the Institute of Excellence has strong support and already has two graduating promotions! Our 13 future consultants are waiting for the 2nd practical phase to be ready to go into DSNA Services' International Projects!
The DSNA Services' Institute of Excellence is a platform that aims to supplement the technical expertise of the DGAC experts through consulting skills to valorize the international know-how of French civil aviation.
The Institute of Excellence training is open to all Civil Aviation profiles. For all interested parties, follow us on :
for the next dates of training. In the meantime, don't hesitate to send us your CVs and see you soon!
https://fracs.aero/wp-content/uploads/2019/06/ID.jpg
299
698
admin_c4com
https://fracs.aero/wp-content/uploads/2019/08/FRACS-for-web-1.png
admin_c4com
2019-06-13 13:10:08
2021-09-27 16:22:32
Become an International Consultant? It's possible with ID - the DSNA Services Excellence Institute!