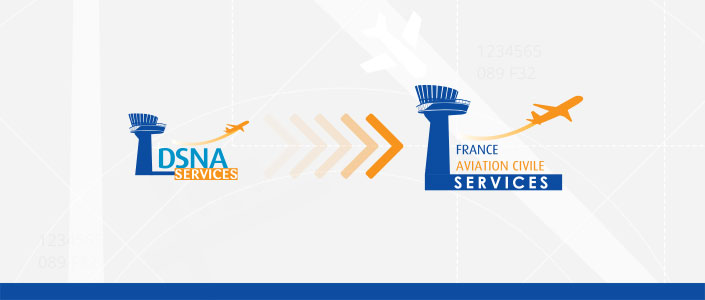 France Aviation Civile Services Takes Off!
Founded as "DSNA Services" in 2013, the company's taking off again under its new name "France Aviation Civile Services" — FRACS. The new name will take effect on September 1st, 2019, the anniversary of Farid Zizi's appointment as director.
DSNA Services changes its name to France Aviation Civile Services!
The new name needed to better reflect the reality of the group's activities. It had to be explicit and understandable to anyone familiar with the aviation field but also to anyone outside of that field.
Throughout the years, the scope of activity gradually spread to all areas of civil aviation while staying anchored in the air navigation sector. It became inappropriate to restrict the identity of DSNA Services to air navigation alone, given its vocation to operate in all areas of civil aviation. Finally, as DSNA Services grew, some confusion began to occur between the organisation and "DSNA".
"France Aviation Civile Services" is dedicated to providing support services for the development of Civil Aviation around the world, based on the French aviation ecosystem and experience. It was also necessary for the name to be easily understandable in most languages without the need for translation.
What is the balance sheet of the company's activities before its name change?
The balance is excellent, there are many projects at work, all very interesting but also with complications sometimes. The EIG capital has recently been re-evaluated, which is a sign of confidence from its members and partners. In addition, new services are under construction or have been transferred, such as the administration and enhancement of global air transport databases.
France Aviation Civile Services is active on all continents. It consolidates its approach in its main areas of expertise, Airspace Design and compliance with ICAO standards. FRACS is also gradually gaining expertise in the field of drones and UTM, all while following its vocation to support the development of global civil aviation by contributing with ENAC to the development of an Air Transport MOOC.
At the same time, the work dynamic between experts is developing, resulting in richer human relations and creating the need to structure our approach to ensure an efficient collective functioning following Farid Zizi's motto: "contributing to building the French team at the World Civil Aviation Championship".
About France Aviation Civile Services
France Aviation Civile Services, formerly known as DSNA Services, is the French civil aviation consulting and advisory office, created by the DGAC and ENAC in 2013. France Aviation Civile Services provides its worldwide customers innovative and tailor-made services in the areas of regulation, safety oversight and air navigation.
Press Contacts
Farid Zizi
Director
contact@dsnaservices.com
+33 5 62 17 45 64
https://fracs.aero/wp-content/uploads/2019/08/entete_fracs-1.jpg
300
705
admin_c4com
https://fracs.aero/wp-content/uploads/2019/08/FRACS-for-web-1.png
admin_c4com
2019-08-26 10:01:54
2021-09-27 16:22:07
France Aviation Civile Services Takes Off!