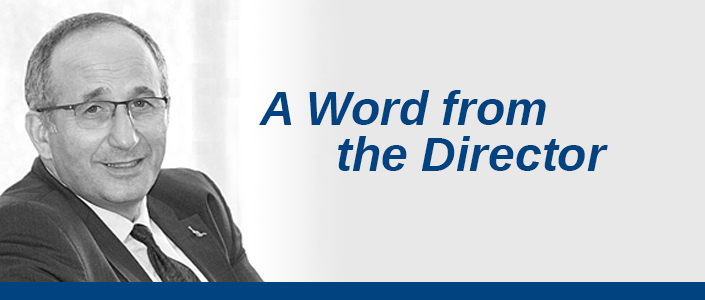 Successful Take-Off for France Aviation Civile Services!
This is our main news of 2019. The change of name is essentially symbolic but it is the result of a major consolidated effort throughout the past year: strengthening and structuring of IT resources, recruitments, launch of new services and, of course, new projects, both large and small, with their share of discoveries, satisfactions and challenges.
What a busy year we had in 2019! Obviously, everything didn't go as planned, but it would be dull if it always did. Nevertheless, our spirits are up, our demeanour is collective and the enthusiasm of FRACS staff, experts and partners has helped to overcome the difficulties. FRACS will have revised its constitutive texts, doubled its capital and consolidated its foundation.
What do we have in stores for 2020? We are kicking off the year with some great ongoing projects: the continuation of the TMA Bogota project, good prospects in Africa and Asia and the excitement of starting a long and fruitful collaboration with the Eurocontrol Experimental Center in Brétigny. We have recently launched the SafeNcy project which will be an opportunity to stimulate our brain cells while generating automatic trajectories in case of emergency. We will continue to contribute, as with "MET Enhanced ATFCM," to the development of innovative solutions in our different fields of action. All these projects have been developed thanks to our partners. Their accomplishment is also an opportunity to strengthen our partnerships through practical collaboration between our respective teams.
Year 2020 will be filled with the development of services linked to Air Transport Data databases since its transfer from ENAC to France Aviation Civile Services in mid-2019.
Finally, 2020 should see the development of ICAO compliance services in collaboration with DSAC after a year of learning based on Haitian's experience and an increase in competence. New services are also being developed for the benefit of AFIS organizations and drones operators.
I would also like to mention the very positive experience of working with ENAC students, whether it be in the context of technical project supervision, evening jobs, internships or summer jobs. This has been the case this year and will, of course, continue next year.
In conclusion, I would like to thank all those who contributed to our projects in 2019: experts, customers, small company, large groups, DGAC and ENAC services and finally all the members of the France Aviation Civile Services team. The new year will be an opportunity to reaffirm our values and our ambition to serve the safe, secure and sustainable development of civil aviation worldwide.
I wish all of you an excellent year in 2020.
Farid Zizi
Director
https://fracs.aero/wp-content/uploads/2020/01/entete_articles_word-president.png
300
705
admin_c4com
https://fracs.aero/wp-content/uploads/2019/08/FRACS-for-web-1.png
admin_c4com
2020-01-09 01:38:06
2021-09-27 16:21:45
Successful Take-Off for France Aviation Civile Services!