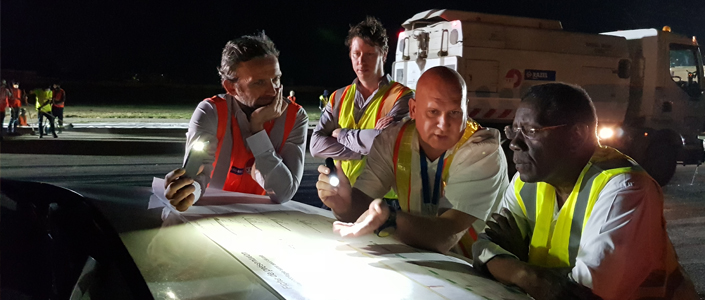 Port-au-Prince Airport Continues Modernisation Efforts with Runway Renovations
Port-au-Prince, HAITI — DSNA Services and ADP Ingénierie (ADPi) supervise runway renovations in Port-au-Prince as Haiti targets achieving international compliance.
DSNA Services and ADPi are combining their skills and expertise to fulfil the contract initiated by the Haitian Ministry of Transport, to supervise the renovations of the runway at the Port-au-Prince airport. Work financed by the Inter-American Development Bank (IDB) will be executed by the French company Razel alongside the Haitian group Vorbes & Fils.
The project, which began in November 2017, will continue through September 2018 and includes the resurfacing of the runway, the renovation of the lighting system, as well as the widening of the runway to 45 meters allowing it to be compliant with ICAO international standards. This work is an essential step towards the certification of the Port-au-Prince airport, by providing important contributions to strengthening not only air safety but also increasing the confidence of companies affiliated with the airport, thus indirectly promoting tourism and trade.
DSNA Services has mobilised two Air Safety Experts to manage on-site activities alongside ADPi's Infrastructure Experts. Both teams are responsible for assisting local stakeholders (construction companies, airport operators and air navigation) to maintain a high level of operational safety throughout the duration of the renovation project, by providing methodological support for a safety study and regular monitoring of security events.
The renovation work will not impact airline flight programs, as the work is being done at night once the airport has closed. However, in order to be prepared for any situation, specific measures have been created to quickly make the runway operational in the event of a flight arriving or departing during the runway closing hours. The DSNA Services experts must pay particular attention to respect the work schedule to ensure that the runway is operational for the first-morning flight.
With a presence in Port-au-Prince for more than 4 years, within the framework of establishing a Supervisory Authority compliant with ICAO standards, DSNA Services is proud to continue working alongside its Haitian partners on a project being closely followed by local authorities, as it represents a major step in the modernisation of the Haitian air sector.
https://fracs.aero/wp-content/uploads/2018/07/haiti-mars-web-3.jpg
300
705
admin_c4com
https://fracs.aero/wp-content/uploads/2019/08/FRACS-for-web-1.png
admin_c4com
2018-03-23 13:33:08
2018-07-11 14:08:14
Port-au-Prince Airport Continues Modernisation Efforts with Runway Renovations